ABOUT

ELIAS SANDOVAL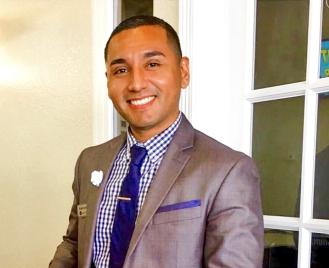 Elias Sandoval is the second youngest of five siblings in a family of seven. He was born and raised in the poorest community in the United States named Cameron Park in Brownsville, Tx. Mr. Sandoval grew up in a migrant family. They picked seasonal fruits and harvested crops in Florida, Ohio, Iowa, and other states in the nation. Mr. Elias Sandoval is inspired and motivated by his parents, and pursues his goals by being optimistic, determined, and hard working.
Mr. Sandoval graduated from Hanna High School in 2003. Later that year, he attended St. Edward's University in Austin, Texas through the College Assistance Migrant Program. He had the privilege to study abroad twice in Spain at the Universidad de Alicante & Menendez Pelayo International University (Summer 2005 & 2006). In 2007, he proceeded to earn his Bachelor's Degree in Business Administration at St. Edward's University.
Then, he pursued and obtained certifications, such as Credit Manager, Certified Debt Specialist, Certified Credit Counselor, Certified on the Fair Credit Reporting Act, Certified Credit Consumer Interviewer, Real Estate Note Specialist, Residential & Commercial Contractor, Property & Casualty Independent Insurance Agent, and Life, Accident, & Health Independent Insurance Agent.
Presently, Mr. Sandoval is the Founder and C.E.O of Easy Solutions. Easy Solutions is an entrepreneurial company that offers a wide range of innovative solutions in different industries. The company has evolved to providing a full concierge proprietary new home program for our clients. We service their credit and financial needs, pre-qualify them with our reputable lenders, design and build their homes, and finish off with home owner insurance. Easy Solutions for Your New Home from beginning to end. We have successfully assisted thousands of clients that stretch across 42 states, including Alaska and Puerto Rico.
Mr. Sandoval has been blessed by having a dedicated growing team of 35 in the United States, Mexico, and the Philippines. Easy Solutions presently operates 3 branches, a corporate office, a call center, and a construction warehouse in the U.S. Their mission is to continue investing in research and development while enhancing the team, operating system, and facilities. Once a turn-key expansion business model is accomplished, their focus will be on additional branches and franchise opportunities.
On March 8, 2016, Elias Sandoval had the honor of receiving Yolanda Garcia Olivarez; she is the regional administrator of the U.S. Small Business Administration. Mr. Sandoval was awarded with the 2016 Small Business Person of the Lower Rio Grande Valley District Office, which consists of 14 counties and over 150,000 small businesses. Soon after that, Mr. Sandoval soon after received a prestige city award, 2016 City of Brownsville Proclamation Award, honoring and recognizing Mr. Sandoval's entrepreneurial contributions in the local community.
He believes that we are a product of our way of thinking and decision making, and our only limitations are the ones we create for ourselves. Regardless of our upbringing and the challenges we face in life, Mr. Sandoval strongly believes we are all equipped to succeed. He encourages us all to first believe in ourselves. Then, pursue our dreams with an unprecedented drive and determination.
Credentials
* 2016 Small Business Administration - Small Business Person of the Year.
* City of Brownsville Proclamation Recognition Award on May 17th, 2016.
* Bachelor of Business Administration at St. Edward's University in Austin, Texas.
* Studied International Business at Alicante University and Universidad de Melendez Pelayo in Spain.
* Certified Credit Counselor from the International Association of Professional Debt Arbitrators.
* Certified Debt Specialist from the International Association of Professional Debt Arbitrators.
* Fair Credit Reporting Act and Fair And Accurate Credit Transactions Act Certified.
* Real Estate Note Specialist - Founder of ES Note Funding in Austin, Texas.
* Licensed Residential and Commercial Contractor.
* Independent Licensed Insurance Agent for Property and Casualty & Life, Accident, and Health.
* 15 Years of Management and Leadership Experience.
* 10 Years of Credit Repair and Financial Services Experience.
* 10 Years of Business Services, Development, and Consulting Experience.
* Additional Credentials and Skills Available Upon Request.